We had a great turnout this year for the Advanced School of Ministry conference in Cuernavaca. Almost 900 pastors, leaders and others involved in ministry, gathered with us during the four days of worship, teaching, ministry and fellowship. Pastor Bob MacGregor was our keynote speaker with the theme "Focus". Together we focused on the different aspects of our relationship with the Lord and Christian ministry.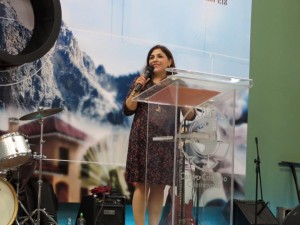 Sara and I each taught a session during the seminar. Sara's was "Focus on Healing Ministerial Disillusions", and she did a great job ministering to the hearts of those who had been wounded in ministry. She ended in a time of prayer and healing ministry to broken hearted leaders. I taught a class called "Focus on Social Media", dealing with the benefits of using social media in ministry and also the dangers and precautions we must be aware of.
The conference included a total of about 18 teaching sessions, concluding with a graduation ceremony where 14 students celebrated their five years of study and received a bachelor's degree in theology.
I interpreted, as I usually do, for our keynote speaker, Bob MacGregor. Both Sara and I were involved in preparing the 200+ page book that each pastor received containing the full teaching notes. This book can then be used by each pastor or leader as a resource for their own teaching/preaching. We also offered the book in PDF format for those who want to keep a copy on the tablet or iPad.
For the last several years I have been in charge of the online registration for the conference. This past June I redesigned the online registration program and interface to work better with mobile phones. Almost two-thirds of those who attended used the new system to register online. The online registration helps us avoid long lines at the conference. Those who attend only need to show a QR code on the screen of their mobile phone and can then receive their books and access to the conferences. Before we had online registration, the people would often have to stand in line for one half hour or more to get in. This year there were virtually no lines at all. This change and been a blessing for everyone!
Our team leaders, Bill and Gerda Brown, we both able to do their sessions, although Gerda has been experiencing health problems. The Lord strengthened her, and she was able to minister very well. She taught on the theme "Personal Focuses of Leaders" and used her husband's expertise with the bow and arrow to illustrate her point.
Now that the conference is past, we'll soon have a meeting with the leadership team and start planning for our 2017 seminar.