Dear family, friends and supporters,
After a great Christmas with our whole family, we took David Jeremiah to the airport, since he was only able to spend about 10 days with us. Daniel stayed a bit longer, until January 11. We had a very nice Christmas and New Years, and we hope you did, also.
Getting ready for the seminar
Throughout the Christmas season and into January, we worked on getting some details ready for the Advanced School of ministry conference. I finished this year's student notebook just before Christmas, and Anna also finished translating Pastor Dick Iverson's book Maintaining Balance When Winds of Doctrine Blow.  This is her second translation, and our team has already asked her to translate another book for next year's seminar.
We also took care of online registration for the conference as well as signing people up for lodging accommodations in homes of the families of the local church in Cuernavaca.
Appreciation dinner
Our church had our annual Christmas dinner with many families attending. But this year, we also did an appreciation dinner in January to show our gratitude to all those who so faithfully serve in many areas of our church.
Advanced School of Ministry Seminar
The Advanced School of Ministry seminar was again a huge blessing to many pastors and leaders. Nearly 1,000 people from all over Mexico and even some from the U.S. gathered in Cuernavaca for four days of teaching, worship and times of prayer. Our theme this year was "The Wind Blows Again", and throughout the 17 sessions, we studied Scriptures that relate to the four winds mentioned in the Bible. There are winds which bring refreshing, winds of change and challenge, winds that cleanse, winds that reverse the curse of sin, and winds of the sovereignty of God. The Bible mentions the north, south, east and west winds, and each direction points to certain theological truths that we, as Christians, experience throughout our lives.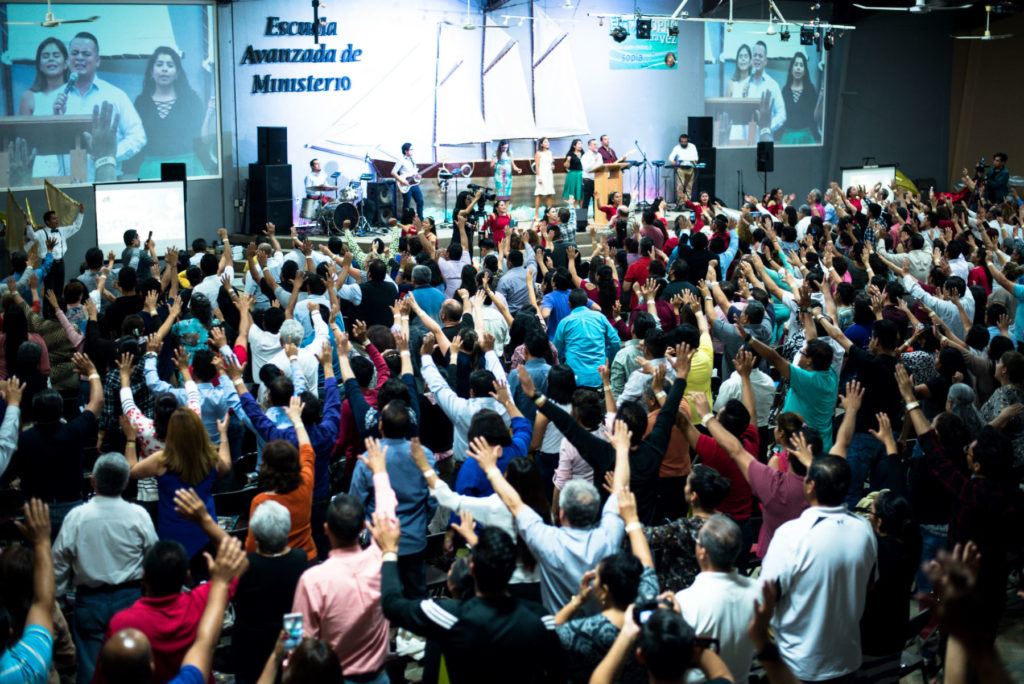 The seminar ended with a graduation for some of the students who have completed the Bachelor's Degree in Theology program offered through the Advanced School of Ministry and Christian International College.
Sara did a wonderful job sharing about the west wind, which comes to "reverse the curse" caused by sin. I taught on the north wind, which is often a cold wind of trials, but the Lord uses it to purify our lives and allows us to see His hand upon our lives more clearly. Also, this year I was asked to be the speaker on graduation night, which was truly an honor.
Online Bible School
The online Bible School program is continuing to progress and grow. For our first semester of 2018, we have around 125 students enrolled. We are currently offering Old Testament Survey, New Testament Survey and Systematic Theology courses via our online certificate program. Each student who successfully concludes the program receives a certificate of completion.
Our plan is to move the school to the "next level" by integrating all the necessary courses to offer a complete two-year Bible School training program. For this to happen, we will need to accelerate the production of our courses and form a team to do the work involved. Please pray with us that the Lord would help us to gather together a talented like-minded team and organize all the details.
Thanks!
Thank you so much for praying for us and giving to our ministry. We really appreciate each of you who is praying daily for us. We also thank those who sacrificially give. You are investing in the Kingdom of God and will receive your reward!
In Christ,
David and Sara Lont
and family