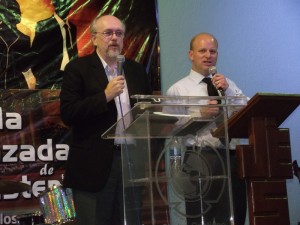 This year's seminar was called "Strategic Transformation".  The entire seminar was focused on conquering specific mountains in society (including education, arts/entertainment, government, religion, business, family and the media) for the Kingdom of God.  I was actively involved in preparing the notebook of just under 160 pages for the 800 students who would attend.  I had been working on translating material and preparing my own classes since August.  It was quite an accomplishment when I finally finished editing and typesetting the material at the beginning of January.
Our main speaker was Doctor Tim Hamon of Christian International College, from Florida.  He shared a series of six powerful messages on the Biblical basis for transformation in the society through the preaching of the Kingdom of God at all levels.  Doctor Hamon really challenged all of us through his teaching sessions to think about ways to bring the message of the Kingdom to areas of society many Christians would never consider.
I interpreted for Doctor Hamon's six sessions.  Also, both Sara and I shared our own classes.  I did a session called "Redeeming the Arts" and Sara did a session on entertainment.  It was amazing how many artists came to me for prayer and encouragement at the end of the seminar.  I never have considered myself an artist, although I enjoy music and the arts.  But after my session on art, many young leaders identified with my teaching.
Our entire leadership team taught sessions of several topics; we also had the participation of a couple from the church in Cuernavaca that has been involved in politics and business.  We especially enjoyed the session about impacting the business world for Christ, which was presented by Kerry Brown (Bill Brown's son).
We are thankful to the Lord for the opportunity he gave us to bring new inspiration for ministry to many pastors and leaders.